Friendly, knowledgeable and very helpful staff
The Proshop stocks a wide variety of equipment and apparel to meet the needs of our Lady, Men and Junior golfers. Staff are very knowledgeable and can assist to ensure you look and feel great out on the course, and fit you with equipment that will bring the best out of your game.

Pro Shop Order and Collect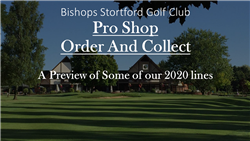 Pro Shop Order and collect service is available.
Click here to view.
To order call: 01279 651 324 or email bsgcacademy@gmail.com