BSGC Snooker League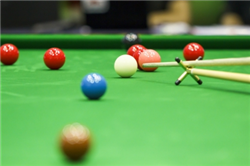 The new snooker season started with the Snooker Golf Day.

Dave Gladwin, Nick Hadley, Fred Phillips all scored 38pts but winner of the Presidents Bowl on 39pts was Brian Mitchell.
Fred Phillips got nearest the pin on the 8th hole, and on the 15th the closest was Dave Gladwin
The evening snooker was won by Paul Tyler beating Andy Green.
Thanks to all 24 players for making an enjoyable day/evening.
The 2017/18 Snooker League started on Tuesday 26th September. 8 new players have signed up for this season.
New members of all standards are always welcome.
Any new players interested in joining should contact Ian Tinsley on 01279 504330
About the snooker league.
The snooker league starts in the last week in September and we are always looking for additional players. We operate a handicap system to try to balance out players' different abilities
League games are played on a Tuesday, Wednesday, Thursday evening throughout the Winter months.
Last season's champions were Team 4.
The remaining places were:
Second: Team 2 with 62pts
Third: Team 3 with 61pts
Fourth: Team 6 with 60pts
Fifth: Team 1 with 57pts
Sixth: Team 5 with 48pts
Sherry Cup:
Stephen Helm Beat John Healy
John Mealing Pairs Cup:
Brian Mitchell & Ian Tinsley beat Eddie Copping & Bill Dean
Hawkins Cup:
Team 1 beat Team 3
Highest Break:
Andrew Green 59pts