Visitors & Green Fees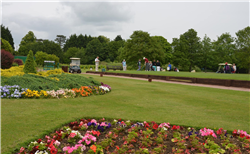 Bishop's Stortford Golf Club extends a warm welcome to visitors. For up to 12 players, telephone Simon Sheppard and his team in the Pro Shop on 01279 651324 and they will help you with your booking. We respectfully request that you observe our dress code.
MEMBERS GUEST
9 Holes: Weekdays £14, Weekends £19 (Juniors £12)
18 Holes: Weekdays £24, Weekends £29 (Juniors £15)
27 Holes / Day Rate; Weekdays £29, Weekends £35 (Juniors £20)


VISITOR (Weekdays only)
9 Holes £24 (Juniors £20)
18 Holes £48 (Juniors £27)
27 Holes / Day Rate £58 (Juniors £34)

All green fees include complimentary third party liability insurance so that you are covered if you hit someone while playing the course. For details, please ask in the Pro Shop.
We are happy to accept bookings for charity golf days. Here is our policy on such bookings:
Charity Golf Days
Need more Info:
Special Offer: Drive into Summer
Play 18 holes with food for just £45.
Book a four-ball and play for a total of £168, that's £42 per person!

Call our Pro Shop on 01279 651324 to book now.
You can come and play our beautiful parkland course now, which after a winter of hard work by our greens staff and significant investment, is now looking and playing superbly!
Included in the price, we will supply you with range balls to warm up with on our private driving range before heading out for 18-holes. You can enjoy lunch before or afterwards in our comfy clubhouse or soak up the sun on our south-facing terrace. For lunch you can choose from:
Carved gammon with two free range eggs and chunky chips

Beef burger with grilled bacon and cheese, chunky chips or fries, salad and homemade tomato relish

Scampi and chips with salad

OR
Ask for details of Chef Trevor Colchester's Daily Specials.
(Catering is available from 10.30am-4pm)
The summer offer is limited to four players at any one time and is available Monday to Friday only, subject to availability. MUST be booked in advance.


The offer runs until 28th October 2018.
There is plenty of on-site car parking. We reserve the right to change or discontinue the offer at any time.