Let us help you create your special memory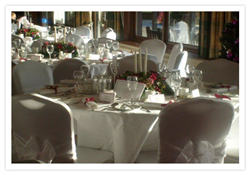 Perfect for your Wedding or any special occasion
Big Birthdays, Anniversaries, Reunions etc
Our restaurant and bars offer panoramic views over our course and make a stunning setting for weddings. We can cater for up to 130 guests and can design the layout to suit your style and exact requirements with the ability to section off areas into smaller rooms if necessary.
The upstairs, newly refurbished Gilbey Bar is a smaller room, often used for business seminars, board meetings, smaller functions and private dinner parties. We have equipment on site to assist with business presentations and a state-of-the-art sound system in the main downstairs bar which can be worked with a button-hole microphone.
In order to book you must be either a club member or be introduced by a member.
Who can I speak to for more information?
Our events co-ordinator is ready to help organise your event and will be on hand from beginning to end. Call 01279 465123 for more details. For business functions, please call the office on 01279 654715. Or email Office@bscg.co.uk or complete the contact form.